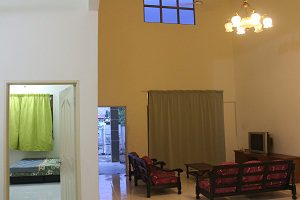 Kluang home stay villa – enjoy You Free Casual Weekend at Kluang Home stay Villa.  Kluang Home stay Villa is an Orchard Sanctuary ideal weekend getaway for the entire family or group.Kluang home stay villa has two single-story semi-detached units on a corner lot.
Enjoy You Free Casual Weekend at Kluang Home stay Villa
Surrounding of Kluang home stay villa
It takes 5 kilometers to get to downtown, the railway station, the bus station, the shopping mall, and the cinema complex.
Also within a few minutes drive are a supermarket, a petrol kiosk, and a 24-hour McDonald's outlet.
The north-south highway is approximately ten kilometers from the Kluang Homestay villa.
The Kluang stadium is only a 5-minute drive away.
Likewise, Take a 5-minute drive to the Kluang Merdeka O'clock Tower.
In addition, we provided a security guard operated 24 hours a day, seven days a week.
We constructed a five-foot fence wall to ensure privacy.
The owner planted pineapple and Thai sunkirt orange mangosteen, pandan, coconut, , longan and durian trees.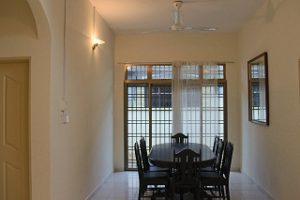 Enjoy You Free Casual Weekend at Kluang Home stay Villa
Benefits of staying at Kluang home stay villa
To escape from the hustle and bustle of city life. We occasionally saw a group of monkeys leaping from tree to branch.
We also see early birds singing melodiously on the tree branches.
For us to overcome our stressful lifestyle, the Kluang homestay villa is a great place to unwind over the weekend, for a birthday party, or a wedding engagement. A 650-square-foot space with a 20-foot-high ceiling for improved ventilation. The hall adjacent to the dining hall can comfortably seat 20-30 people.
Enjoy You Free Casual Weekend at Kluang Home stay Villa
Facilities at Kluang Home stay Villa
We equipped the main bedroom with air conditioning, a fan, a dressing table, an attached bathroom, and a water heater: a king-size bed and a single bed.
The owner installed Two rooms with air conditioning fans, one with a queen-size bed and the other with a king-size bed.
There is another room with a fan, a single bed, a queen-size bed, and a 15-foot-high ceiling.
The kitchen includes a washing machine, kettle, sink, and cup. We supply dining utensils.
In the dining hall, there is a dining table. We hang a wall mirror, a fan, and a dim light.
A sofa set is prominently displayed in the main hall, dominated by a coffee table..
We also provide a prayer mat with Qibla directions for Muslims.
We positioned an ironing board in a prominent hall corner for ironing.
All shower rooms fitted with water heater.
Enjoy You Free Casual Weekend at Kluang Home stay Villa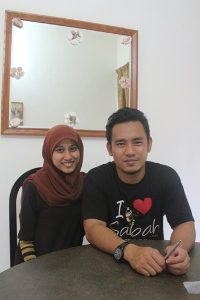 Details on Kluang Home stay Villa
The number of rooms is four on each unit.
The number of shower rooms is two for each unit .
Maximum number of adults: 12
1400 HOURS IS THE CHECK-IN TIME
1200 HOUR CHECK-OUT
Each unit requires an RM200.00 confirmation deposit.
Contact or WhatApps  the owner at the following phone number: 013-7839857.
No 1, Jalan 14/4, Tmn Permata 1, 86000, Kluang, Johor, Malaysia; we do not provide a fridge  in the kitchen.
We install a fan on the 15 feet height ceiling in room. The other three rooms fitted  with air-conditioned. The price we offer is RM350.00 per night.
No 3, Jalan 14/4, Tmn Permata 1, 86000, Kluang, Johor, Malaysia. We equipped four air-conditioned rooms with a two-door refrigerator priced at RM400.00 per night.
Enjoy You Free Casual Weekend at Kluang Home stay Villa
Home stay villa in Kluang Outdoor Recreation
Tthe only mountain in the heart of Kluang is a day trip Gunung Lambak mounting climbing. Enjoy the fresh air and green lung house and closer relationships among family members. It is only a 2-kilometer walk from the town center. The resident frequently sees a large group of friends climbing the peak.
Occasionally, you'd come across a whole family having a picnic at the resort's pool's crystal clear stream flowing from the mountain top. Those schoolchildren go out for fun and keep an eye by the teachers in charge.
When the flower blossom season is in full swing in March and April and July and August, you don't have to spend a few thousand dollars traveling to Japan to see the Sakura flowers in bloom. It is only in Kluang that you can see it.
Furthermore, Gunung Belumut Recreational Forest (Belumut) in central Johor is a protected forest located about 30 kilometers northeast of the town of Kluang. Belumut has a clear stream of water that is strewn with rocks and has a sandy bottom. There are also a lot of insects and wild animals. It is also crucial.
The damselflies are the main attraction for the macro photographers who come here in groups. As a result, some refer to this location as "damselfly heaven."