10 best reasons at Happyjamin Kluang homestay now
Guesthouse – a perfect retreat for social gatherings like weeding & birthday party.
First and foremost, I am a retiree looking for some spare cash and instead of ideal my leisure time in front of Idiot Box 24 hours a day or playing the latest game on my gadget. Without any daily activities, one getting aged faster as the days goes by. Very often, you heard old buddies gossiping about someone kissed the world forever goodbye like one of best buddies dies prior to 60. How sad indeed!. With some extra cash, I purchased 2 units of semi-detached single floor villa side by side to run a hospitality Kluang homestay service catering for people from all walks of life, regardless of race, creed and religion.
10 Best Reasons for staying at Happyjamin Kluang Homestay now
A Single Floor
As it is a single floor, again, after all the chance for kids, senior citizens and pregnant women find no obstacle to walk about, most often kids run around foolishly and landed with a fracture limp. A pregnant woman tripped and fell from the staircase causing a miscarriage. Moreover, grey-haired elderly might slip and fall resulting in a slicing disc. Equally, important are the handicapped people with a knee injury or heart patient find it breathless to climb due restricted mobility.
Affordable Semi-detached Homestay Kluang
Not to mention do a semi-detached comprise both units side by side, Again, it is convenient to run a social gathering either for a wedding or birthday party. In the end, it saves quite a substantial amount of your precise and valued for your money. Conveniently parked 2 cars in the corridor with stainless gated, addition, guest can park along the traffic-free roadside adjourned in of the semi-detached. One unit with 4 rooms boosted with 3 air-conditioned and one water heater go for RM 350.00 per night. Another 4 air-conditioned rooms with 2 units of water heater charge merely RM 400.00 per night. As a matter of fact, others quote us RM 850.00 the most premium homestay in Bat town, which is NOT TRUE. So, these are the 10 Best Reasons for staying at Happyjamin Kluang Homestay now.
5 feet concrete wall Fence
Moreover, the happyjamin Kluang homestay was built on a 5 feet concrete wall fence between both the units to ensure the privacy of the check-in guests. I have entertainment guests from the ASEAN region, Australia and as far as Canada. The guest simple loves the eerie silent refreshing atmosphere. By the same token, would you like to stay in a noisy and crowded area for a perfect weekend retreat, I am sure you wouldn't. Am I right? 
Orchard Sanctuary
As a matter of fact, our human activities have heated up the globe. Not to mention the recent the burning of Amazon basin in Brazil. Action speaks louder by words, I cherish the mother earth the gives us living in the cool atmosphere. By the same token, I do my part by planting some tropical fruit trees around the compound. It gives my guest cool and refreshing air. As the night falls, especially, during a rainy day my guest switched off air-conditioning, using the fan instead for soundlessly sleep. All things considered, do you like to check in an inn without a tree around? To sum up, in the long run, we help to go green by reducing the electricity consumption, in a way by giving back to the society without increase our guest rate for the past 3 years, unlike other with yearly price upward adjustment.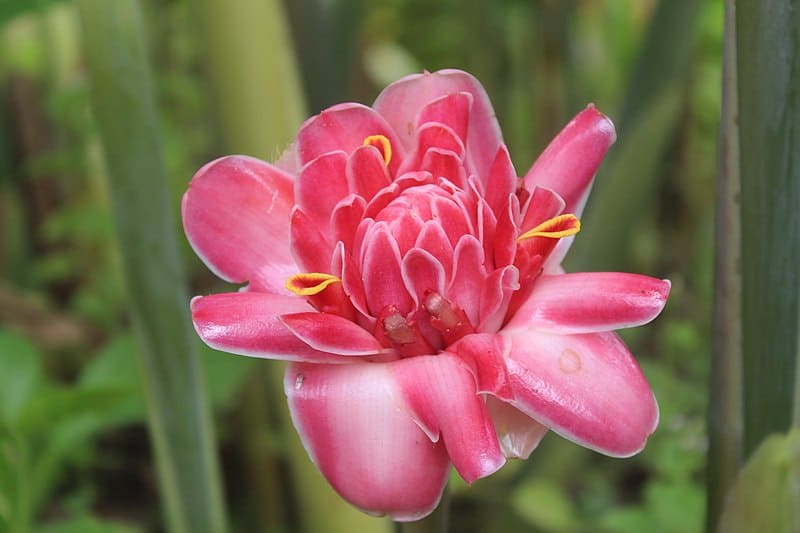 24 hours Security Guard
In light of the safety of the guest, Kluang homestay -a gated community provide with 24 hours security guard. After all, the guard goes patrolling around the area every one hour. In addition, a watched closed circuited TV area was installed at various strategic locations. To say nothing of, a friend of mine from Singapore complaint to me he had a nasty experience of check-in in a family home without any fencing yard. It was a peaceful night for him. The next morning, to his horror, he discovered four of his Michelle tires had been wheeled off. A painful lesson indeed learns for him, saves a penny and finally, losing an arm. To sum up, coupled with a public holiday and Sunday, I became his free driver for a day. 
Proximity 
Ideally, the building is located a 5-minute drive to the Bat town Center. Having said that, the Singaporean guest has a good bargain at some outlet, with the exchange between S$1 equally to Malaysian Ringgit of 3, they shop until they drop with a full load of merchandise in their car compartment. Ideally, bargain for organic produces like freshly plunged fruit and harvested vegetable. A merely 10 minutes land you to the North-South expressway exist. Bring back your sweet memory home. 
Government Building & Private Hospital 
Conveniently, it is situated a stone throw away from the Government department, like Immigration to renew your international passport. National Registered department for registration of the arrival of newborn for identity card registration. Income Tax building for the tax inquiry matter clustered closed by with each other. You need a merely 1-minute drive from the villa. A new private hospital will unveil soon somewhere in December 2019. The less than 5 minute's journey depends on peak or off-peak season for someone needs to take care of their sick family member.
Eating Outlet round the O'clock
Not to mention, the McDonald drive-through outlet is just 2 minutes drive. The guest loves it so much without any fuss. Besides, there are many eating outlets that cater for Halal food at the Medan Selera for Malaysian favourite Namsi Lemak, Roti Canai. In fact, you are spoiled for choices. Of course, ideally, you can hang around day in and out at the Mamak stall watch your idol football star. Of course, there are ample choices of authentic food like the Famed healthy Desa Bryrani and non-halal Botak curry mee located about 4 Kilometers away from happyjamin homestay.

Famous Coffee Outlets.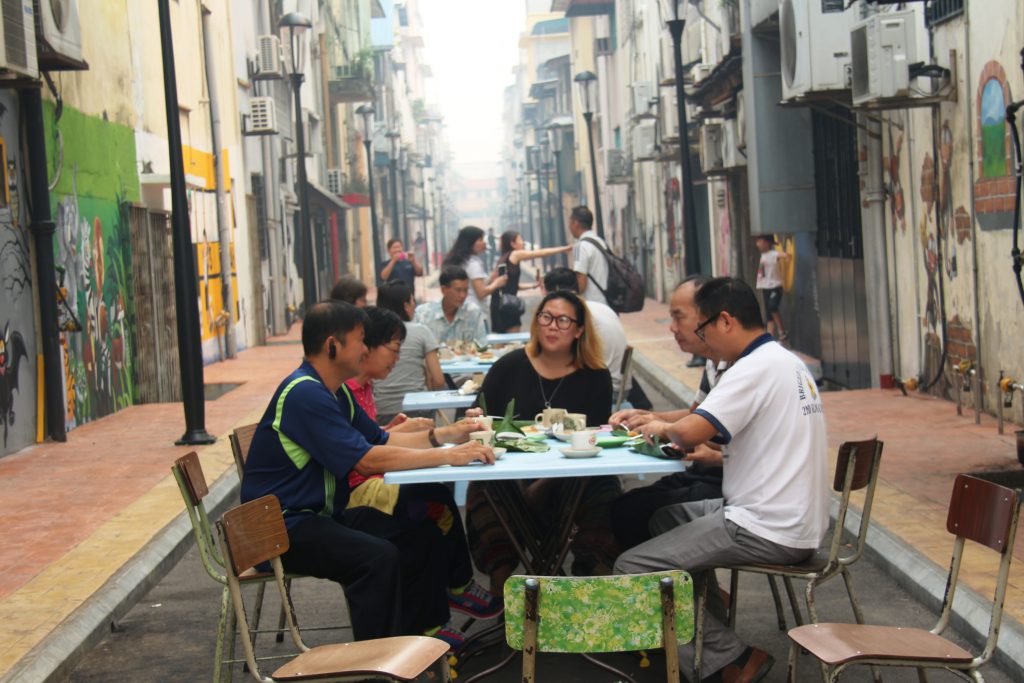 There is 400+ coffee Kiosk within the town, you are in a perplexity position which outlet to have you prefer coffee for the day. Besides the Kluang Railway coffee, there are much more third-generation hand down coffee shops for you to explore. For instance, the Tan Li Seng coffee shop serving charcoal toasted whole meal bread or the traditional Hainan's bread couple with the butter and the owner shop made Kaya. Occasionally, you are lucky enough you can see how she make the Kaya paste over a charcoal stove. Kaya is a mixture of Egg, Flour, Pandan leave and sugar slowly and gently stirring to form a light brown sweet paste spread with butter. The patron prefers a hot steam coffee with 2 half boiled farm eggs and a slice of toasted bread. It served Malaysian famous Nasi Lemak wrapped in a Banana leaf.
Equally important not to forget the Luwak Coffee at Paloh town garden café serve premium coffee. Try a cup of Luwak coffee that cost RM 188.00 per cup and a piece of Singapore Raffles City Freshly baked out from the oven Cheese. It is princely burn off your pocket with RM 252.30 for an afternoon High tea. But sadly to say, you need an advanced order, because, the Johore Royal family frequent visit there.
Final Verdict on 10 best reasons at Happyjamin Kluang homestay now
Having been saying a matter of fact, all things considered, welcome to check-in for the next perfect weekend retreat at formerly know as Hihiwindy guesthouse. As shown above 10 reasons, you can check in the guest house be it a short term or long term. It is affordable to the public at large it is not exorbitant as another claim to be, you would not burn a hole in your pocket.  In the final analysis with all positive unique factors, what else could ask for Rm 400.00 nowadays in the high inflationary period with our Malaysian ringgit depreciated record low with the dominant US currency? Let us check-in today.
Highlight Facilities
The villa in an orchard sanctuary 013-7839857 is located within the vicinity of the town.  It is ideal retreat for the weekend for the entire circle of relatives or friends.
2 units single-floor semi-detached built side by side in a spacious corner lot.
Five Kilometers journey downtown, railway station, bus station, shopping centre and cinema complex.
It takes 1-2 minutes' drive giant grocery store, Petron – a petroleum kiosk and 24 hours Mc Donald outlet.
24 hours security shield compound happyjamin homestay Kluang.
Five feet fencing wall to make sure privacy.
Orchard Sanctuary
In a pretty surrounding planted with tropical fruit like such as rambutan, durian, longan, coconut, mangosteen, pandan and lemon, lime, Etlingera elatior and the Rhu tree.
Break out and retreat from the hustle and bustle town centre for care homestay.. Now and then in you stumble across monkeys jumping from tree to branch harvesting and devouring the juicy fruit..
Once in a while, we can see the early birds making a melody song on the tree branches.
Ideally, it is a perfect villa to relax all through the weekend, birthday celebration or wedding engagement.  It is boosted with a 650 square feet spacious hall with 20 toes high ceiling for higher ventilation. The corridor adjoining the dining hall can accommodate spaciously 20-30 human beings.
Kluang Happyjamin Homestay Domestic Infrastructure
The North-south motorway is only 10 kilometres from the homestay.
Travels to Kluang stadium takes only 5 minutes..
You drive five minutes to Merdeka O'clock Tower.
Facilities
First Unit on Happyjamin Kluang Homestay
No: 1, Jalan
14/4, Tmn Permata 1,Kluang, Johore, Malaysia  
The master bedroom is geared up with air-conditioned, fan, wardrobe and dressing table with attached lavatory, equipped water heater. Complement with a king-size and a single bed.
There is another one middle room equipped with air-conditioned, fan, cupboard with a queen length bed.
End room adjourned to shower air-conditioned room, fan and a computer table furnished king length bed.
Another room with 15 feet excessive ceilings comes with a fan, an unmarried bed, and a queen-size bed. Ideally, this room is special cater for patients with sinus, and cool allergies and senior citizens.
BBQ Area at No 1
In fact, our guests love the front corridor area serves as a BBQ area for social gatherings. There is a long wooden bench to put your food and drink on accompanied by four wooden stools. Guest slice some  Bunga Kantan aka torch ginger flower or torch lily along with some Lime juice to enhance the truly authentic taste of the grilled meat. We plant these organic plants with the guest in mind for their convene ice. Furthermore, to bond the close relationship with family members or buddies by doing tasks together. A unique experience which is most lacking in our society nowadays.
We price at
RM 350.00 per night.
Economical Kluang Homestay
No:3 Jalan
14/4, Tmn Permata 1, Kluang, Johore, Malaysia
In-Room 1 is fully air-conditioned furnished with oscillating fan,  dress table and stool, wardrobe, attached shower room with water heater. Also, find a single bed for toddlers accompanied by parents retire on a King size bed.
Again Room 2 with a children carton image frame mounted on the wall. Air-conditioned with dress table cater for the mom with a child on a Queen bed, of course not to miss the ceiling fan and wardrobe.
Likewise, Room 3 is customized super king size for a plus-size couple with a dressing table and cupboard with a fan.
Room 4 arrange with a queen and a single bed mean for the good buddies or teens to chat all night long with a fan, air-conditioned, cupboard and 2 small drawers for their latest gadget placement.
Kitchen equipped with a cooking hook, in addition with 2 doors refrigerator and 7 Kg wash machine for big family gathering. Further, we too supply with the cookery set..  Adjoining is a shower room installed with a water heater.
With the
affordable RM400.00 per night, what else could a patron ask for rock bottom
price?  
10 Best Reasons for staying at Happyjamin Homestay now
Other Facilities
 Both units kitchens are ready with a fridge, washing device and kettle, sink, cup. Kitchen furnished with eating utensils.
In essence, there's an eating table at the dining hall. We glued a wall mirror, a ceiling fan and dim-lit light.
Equally important, inside the main hall, find a sofa set, an espresso table, and T.V.
Additionally, we offer the prayer mat for Muslims with Qibla direction.
As can be seen, position an iron board and iron at the predominant corridor corner.
✔ car Park
✔ tv
✔ furniture and fixtures
✔ Kitchen
✔ fridge
✔ Iron & Ironing Board
✔ Air Conditioned
✔ Water Heater
Kluang Homestay Villa information
Range of Rooms: 4
Wide variety of toilets: 2
Max Adults: 12
Check-In Time: 1400 HOURS
Check out time: 1200 HOURS
Advanced deposit RM 200.00 for confirmation booking on each unit.
Please contact the person in charge for more detailed enquiry: Jamin
Can be reached at handphone or WhatsApps:+60 013-7839857
10 best reasons at Happyjamin Kluang homestay now
Full address
1 & 3, Jln 14/4,
Tmn Permata 1
86000, Kluang
Johor
Malaysia
Happyjamin Kluang Homestay
Kluang outdoor sports
In fact, likewise for those the endless and dynamic individual for daring adventure, again, a dawn trip to the peak to "Gunung Lambak" for a paramount view of the valley town. Thus, explore the flora and fauna of the secondary forest, experience the clean air and unpolluted crystal clean cool mountain water, a must recommendation for mountain enthusiasm trekkers. After all, with an elevation of 510 meters Mount Lambak lies about 2 Kilometer from the city middle, it gives one a birds eye of the whole town at the summit..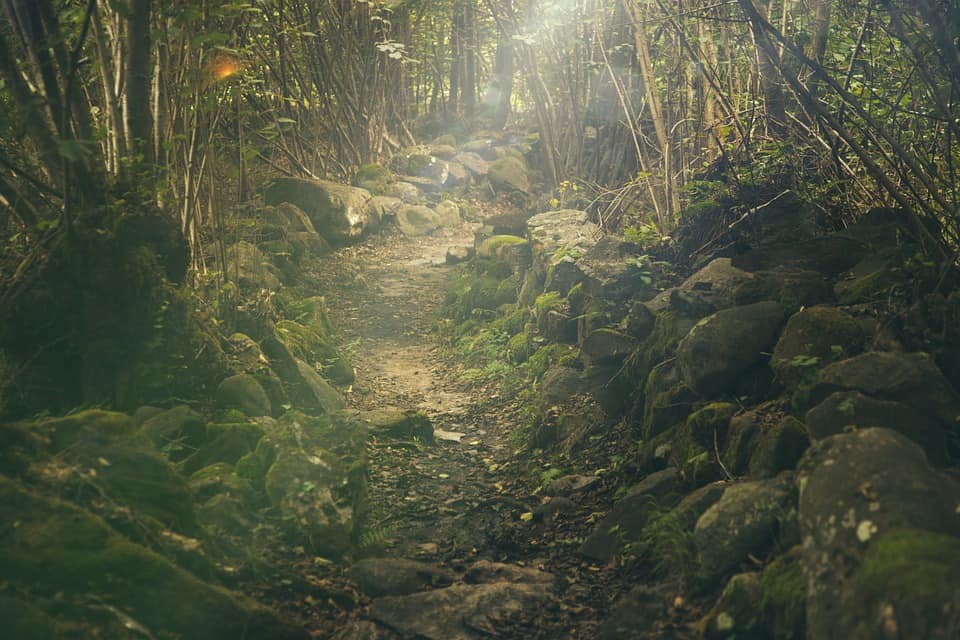 Furthermore, during March and April, July to August, in fact, you don't want to spend a few thousand dollars travels to Japan for viewing the blossoming Sakura flora. Fortunately, You may see them right here in Kluang as a fraction of the cost..
Additionally, Gunung Belumut recreational forest (Belumut) is a dense forest, another natural landscape in Johor. It is located about 30 km northeast of the metropolis of Kluang.  Gunung Belumut has a crystal clear flow of clear water, strewn with rocks and a sandy backside. As can be seen, generally speaking. there are lots of insects and wild animals. The damselflies' are the primary stars that attracted the macro photographers that frequent visiting for snapping its exotic beauty. Given this point, thus, it labelled this area as a damselflies' heaven. With the latest introduction of the Huawei Pro 30 iPhone, you need not carry a bulky DSRL camera to shoot pictures to your heart content.
In the final analysis,, to sum up, based on the given, why not check in the Happyjamin Kluang Homestay for your next visit, after all, it would not cost you an arm or leg. Welcome to Kluang Homestay